The Gathering Place In Chapel Hill, NC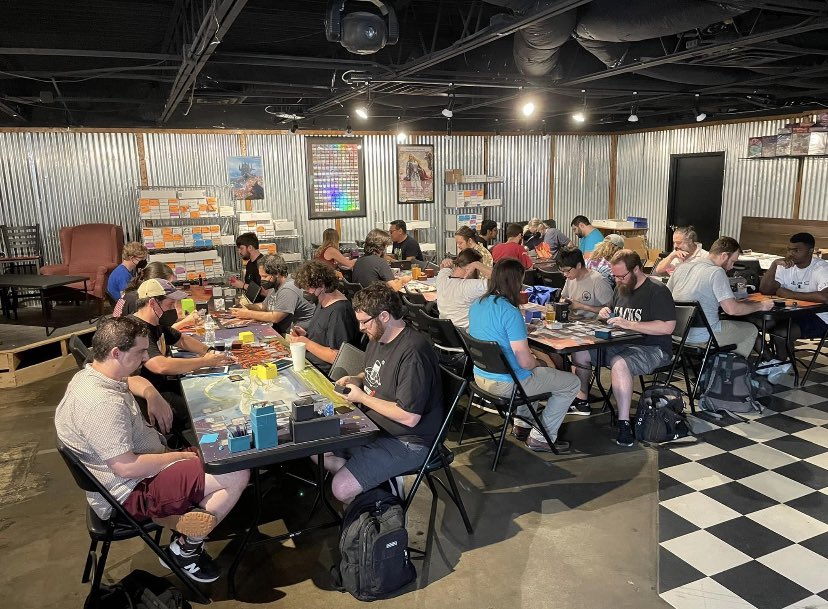 Josh Goodsell is the owner of ⁠The Gathering Place⁠ located in Chapel Hill, North Carolina. It's the second store The Match Slip has featured in the greater North Carolina area. According to Wizards' Store & Event Locator, it is the only game store in Chapel Hill. Located in a college town, The Gathering Place has its core returning customers. However, they have the luxury of new incoming players every four years when new college students arrive in town.
Josh's initial career path was to become a school teacher, but that never materialized. Instead, he spent 10 years in the restaurant industry. During that time he worked in a donut shop in Denver, Colorado. He would see people playing Magic: The Gathering and would soon find himself increasingly interested in the card market and began buying collections. After spending 20 years in customer service, Josh signed the lease for The Gathering Place in November of 2021.
The Gathering Place And Its Unique Concept
Josh says they were "flying by the seat of their pants" when it came to running a game store. He currently employs nine people on staff. Moreover, after just one year in business, he's had to fight cash flow issues during a global economic downturn (2023). All the while, the makeup of the store remained. As Josh puts it, they're "both fully a dive bar and fully a game store."
Having this unique store aspect of being a dive bar, "specializing in local craft beer & vintage MTG!", as noted on their ⁠Facebook page⁠, helps to cover overhead. Employees not only sell Magic: The Gathering products but also share knowledge of various beers which they discuss with customers.
Josh contends that the traditional game store model doesn't work today which is why he incorporated the dive bar. He shares that margins are 10% or less: 70% of sales from beer and 30% from single cards. Most of the revenue is derived from these silos. However, when it comes to ordering sealed products, he has to order months in advance. This comes without any prior knowledge of whether the product is good or not. Additionally, the fees for selling single cards on TCG Player resulted in a temporary pause from The Gathering Place. However, Josh has since "turned on" his online store to sell cards that may be more difficult to sell in-store. To supplement sales, Josh wants to sell pizza within his shop. It's one of the future goals he has his eyes set on.
A Casual-Competitive Player Base
The Gathering Place can accommodate up to 100 players in the 3,600 sq ft. playspace. The Modern format is the most popular amongst Magic: The Gathering players in Chapel Hill. Josh describes his players as a casual-competitive crowd. Modern is highly played at the store but Legacy also has its mainstay of players on Friday nights. On a Friday night, the shop can run Flesh & Blood, Legacy, and Draft at 7 p.m. for Friday Night Magic. From events to card selling to beer, customers of Josh's store like the atmosphere he's created. Customer, James Rippe, shared his experience on The Gathering Place's Facebook page:
"Great gaming atmosphere. Fun place to bring the family, throw back some beers and play some games."

Customer, James Rippe
As a high-end store, The Gathering Place carries everything from bulk cards to Power 9 cards. Outside of the gaming area, there's a 4,000 sq. ft distribution center. This is where Josh is considering making pizza out of as well as a spot for hosting comedy nights. Additionally, the distribution center is where he spends most of his time while on location.
Building Brand Loyalty At Conventions
Josh spends a lot of his time on the road at conventions. He views his time at these shows as good branding opportunities. While the costs of attending are high, he feels getting the store's name out into the community is beneficial. He hopes this leads to more brand loyalty. When it comes to buying cards at conventions, Josh wants it to be a win-win scenario for all involved:
Due to the high costs associated with attending conventions, Josh shares that there's a 75% chance of breaking even at an event like SCG Con. This event, all-in, Josh says costs $15,000-$20,000. The larger events can cost from $20,000-$30,000 or more. For this year (2023), the store is on pace to have a presence at 24 conventions in total. Interestingly, he notes that profit margins on the road compared to selling on TCG Player are about the same. Both options lead to low margins.
The Gathering Place has helped out its community as well. They hosted their first charity tournament (August 2023) for Duke Children's Hospital.
You can follow The Gathering Place on Discord, Facebook, or Instagram.
If you'd like your store featured, please contact us.
---